Who are in need of Vietnam visa extension?
 
Vietnam visa extension is extremely helpful for those who are already in Vietnam and have their visa running out of validity but not wishing to exit the country to do visa run.
By having Vietnam visa extended, foreign nationals are allowed to stay inside the country extra time without having to leave. Thus, Vietnam visa extension will help you out a lot in case your Vietnam visa is expiring soon but you are not able to exit the country for some reason.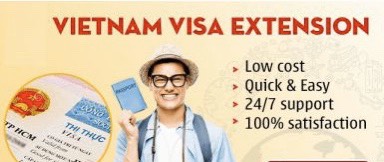 What should be kept in mind doing Vietnam visa extension?
The easiest way to get Vietnam visa extension is to have a Vietnamese travel agency extend it for you.

The processing time for Vietnam visa extension  is around  5-7 business days (Monday-Friday, except for public holidays)
The Vietnam visa extension fee changes through different periods of times and partially depends on the place where the visa stamp is picked up, however, normally the fee would be from 80USD/person.

The Vietnam visa extension will be started from the date the extension request is submitted to the Immigration Department of Vietnam so if you do not wish to lose the number of days left on your visa, we are able to help hold the application to avoid both changing in extension fee and losing visa validity.
How to get Vietnam visa extension?
Please kindly follow the steps below:
Step 1:  Send us your picture of passport copy, visa page and mobile phone number to  visa@vietnamvisatravel.com  or inform us:
– Your nationality
– Your type of Visa approval letter (Evisa, Visa on arrival or Embassy visa)
– Your current type of Vietnam visa: 1 month single/multiple or 3 month single/multiple
– The latest entry date
– The latest port entry: Name of airport or land border/sea border
– Duration for Visa extension (1 month or 3 months)
– Where are you in Vietnam now (Hanoi City, Ho Chi Minh city, Danang City or….)
We will check the cheapest fee and procedures and notify you shortly by responding to your email within 2 working hours and call you in urgent case.
Step 2:  We will instruct you to settle down the payment and necessary documents, then please inform us your temporary residence, we will decide which office of ours your documents should be sent to for your convenience as we have offices throughout Vietnam.
Step 3:  After the confirmed processing time, we will notify you via email, you then can either drop by our office (Hanoi, Da Nang, Ho Chi Minh City) to pick up your passport yourself or wait for it to be delivered by post.
Things to remember before you apply for Vietnam visa extension
– The maximum duration for Vietnam visa extension is 3 months
– Your passport is vald at least 06 months and has 02 empty pages for to stamp the extension
– Vietnam business and tourist visa can be extended.
For further details or instant response, please contact us:
– 24/7 hotline +84.989.038.699
– Email:  visa@vietnamvisatravel.com 
– Website: https://vietnamvisatravel.com